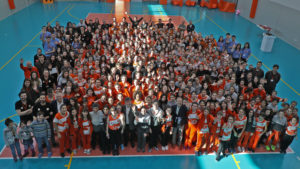 In addition to gaining sportive achievements aimed at world rankings in female volleyball, Eczacıbaşı Sports Club volleyball activities value people with a focus on women and their value and on efforts to bring forward exemplary figures or role models among successful female athletes.
The outstanding value in the youth sports efforts focused particularly on girls and young women in the cooperation between Eczacıbaşı Sports Club and ES Volleyball Sports Club is the investment made in little girls, who are mothers of the future, beyond raising athletes from youth teams for senior teams or national teams.
This project is actually an investment in the youth, through the girls and young women to be reached in the volleyball schools, who are expected to increase in number every year. The project will not only raise these girls to become athletes in the main teams of Eczacıbaşı, as well as coaches and executives who will work for Eczacıbaşı volleyball schools and teams, but will also contribute young people raised with "Eczacıbaşı identity and culture" to the future professional teams of the Eczacıbaşı group.
Prominent values of the project are;
Ensure that young people and children of all ages trained by Eczacıbaşı, as well as their parents, adopt a "sports culture"
Focus on individual development with its people-oriented structure and practices that make each athlete feel special
Maintain a high "human quality" among all athletes, trainers and executives wearing the uniform of Eczacıbaşı.